EFMS100
The EFMS100 Engine and Fuel Monitor System is based on TX100 sender unit and RX100 display unit.
The sender unit is typically installed near the engine
The display unit is typically facing the user
EFMS100 System highlights
All sensors are connected to the sender unit. Only 1 small cable connects to the display unit
Very low power requirements: Operates from the vehicle battery (e.g. 12V battery) or 1 small 9V battery
No additional battery required to save user configuration: all configurations and data are saved in FLASH memory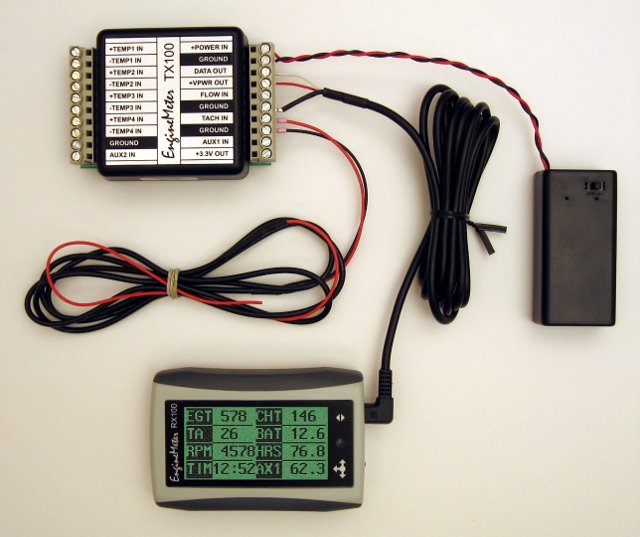 RX100 display unit highlights
Large, anti-glare, anti-scratch, high contrast, 128x64 pixels LCD display
Fully customizable parameter screen (parameter names, locations and character size)
Easy to use: menu driven interface with navigation button on the side
TX100 sender unit highlights
High quality terminal block connections ("rising cage design") allow you to use probes (EGTs, CHTs, etc...) from any vendor

Engine tachometer and hour meter

Supports all types of 2-stroke and 4-stroke engines
Sensor cable (provided) simply wraps around engine ignition wire

Temperatures
4 thermocouple inputs (EGT, CHT, water, oil, etc...)
Ambient temperature sensor built into the sender unit
Battery voltage: Monitors the vehicle battery voltage (or the voltage of the 9V supply battery).

Fuel information based on optional fuel flow sensor
Fuel flow
Fuel used
Fuel onboard
Time to tank empty
Distance to tank empty (after entering your speed)
Auxiliary inputs
2 general purpose inputs
Examples of applications:

Fuel level sensor or detector
NTC thermistor (temperature sensor)
Additional voltmeter
Etc.

Timer

Various purposes (i.e. flight time, engine run time, etc...)
Multiple options for activating the timer

Alarms
Alarms can be set on any parameter
Ultra bright red flashing LED on display unit alerts the user of an alarm condition. In addition, the parameter is immediately highlighted on the screen
Statistics Records minimum, maximum and average values of any parameter
Parts supplied in EFMS100 system
TX100 Sender unit
RX100 Display unit
Link cable (cable from sender unit to display unit)
Tachometer sensor cable
9V battery enclosure with built-in ON/OFF switch (in case the vehicle has no battery)

Optional accessories
Temperature sensors (e.g. EGT and CHT)
Fuel flow sensor